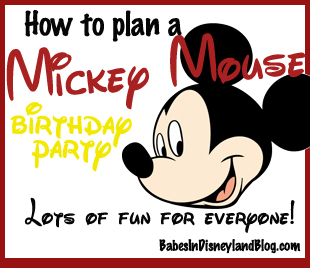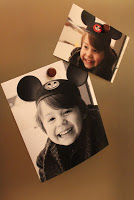 Birthday boy pics -
such an easy and inexpensive
decoration.
My son, Liam, turned 4 years old last month and a Mickey Mouse Birthday Party was decided upon (before he gets old enough to realize he can choose his own party themes!). I didn't have all the help planning this party that I did last time, plus I was hoping to keep this party a little less expensive and intensive. Pinterest played a huge part in helping me plan this party in a very short amount of time. Here is a round-up of some cute and fun Mickey (or easily Minnie) themed party ideas!

Table Setting: I kept the table simple by using things I already owned in traditional Mickey Mouse colors: a red tablecloth, white dishes, yellow bowl, and red/black/ white napkins. I also already owned a Mickey silhouette bowl and Mickey glove plates. (You can find the bowl on Amazon.) I just wasn't crazy about the paper Mickey Mouse birthday products I found, and instead went with some cute paper and plastic in the right colors.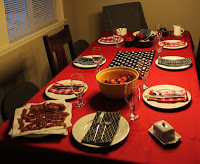 The table setting wasn't over the top,
but definitely stuck with the theme.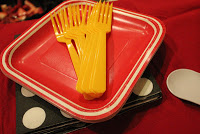 Dessert setting – just the right amount of "Mickey"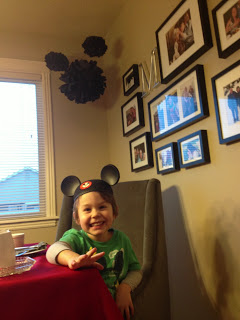 Decorations: To make the mood a little more festive in the dining area, I made some easy and inexpensive tissue paper pom-poms in red, white, yellow, and a black one (well, three) in the shape of a Mickey silhouette. One of my favorite things to do is decorate the mantle, since it's the focal point of the living room. For this I used more things we already had like Mickey toys, a Mickey ears hat, pictures of the birthday boy (which I also hung on the fridge), and a bunting made just for the occasion. And of course, we decorated ourselves – both the kids (and mom) wore our best Mickey clothing!
Dinner: My initial idea for a kid party was to make PBJs and cut the sandwiches out in Mickey shapes using my cookie cutter! Then it became a family (ie. adult) party, so I thought it would be fun to serve Mickey pancakes (a la Disneyland's Riverbelle Terrace) for our breakfast-dinner, but that got scrapped in favor of baked french toast (less theming = less man power).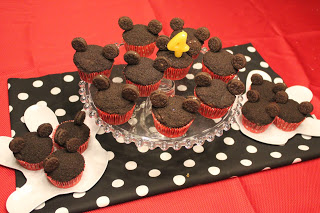 I can't get enough of those Mickey glove plates.
Dessert: Liam only requested chocolate – so I took that to mean Oreo-Chocolate Mickey Mouse cupcakes. They were quite simple for something that looked so fancy! Place an Oreo in the bottom of the cupcake paper, pour chocolate cake batter over the top, bake according to directions, then frost and "dunk" top of cupcake in Oreo crumbs (which were simply made with a food processor). The ears are mini Oreos with toothpicks stuck into the cookie and cupcake to keep them on.
Favors: I had a tough time deciding out of all the cute ideas on which favor to make, and ultimately picked two. One set of favors were for Liam to take to daycare, these were the Mickey pops – unwrapped snack cakes stuck on a lollipop stick with the same mini Oreo ears, then tied up in a wrapper with ribbon – so easy and so cute. The favors for party-goers were the Disneyland shortbread cookies I tested out a few weeks ago.
Games: I didn't plan any games for this party, since there weren't any other kids – but I did find this great website if you would like to plan some games and crafts themed to Mickey & the Fab Five. Several of them appear to be quite easy to set up, and inexpensive to create as well. Spoonful.com (which is Disney) and DisneyFamily.com are other resources loaded with ideas.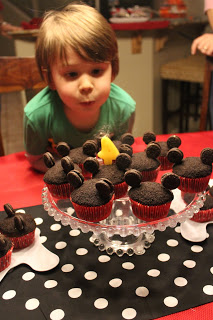 I foresee a Minnie birthday in my future so I'm saving everything, including the ideas I didn't use this time, for later use. If you would like to know where I got many of my ideas, check out my Pinterest board. And if you have any questions or would like to know where I purchased anything for the party, just leave me a comment below!
(Our friends over at Disney In The Desert also made Mickey Oreo cupcakes this week! Check out their blog post by clicking here!)

Read more from Jessica on her blog, Idahome. You can also find her on Facebook, Twitter, Pinterest, or on Instagram at @jesshner.